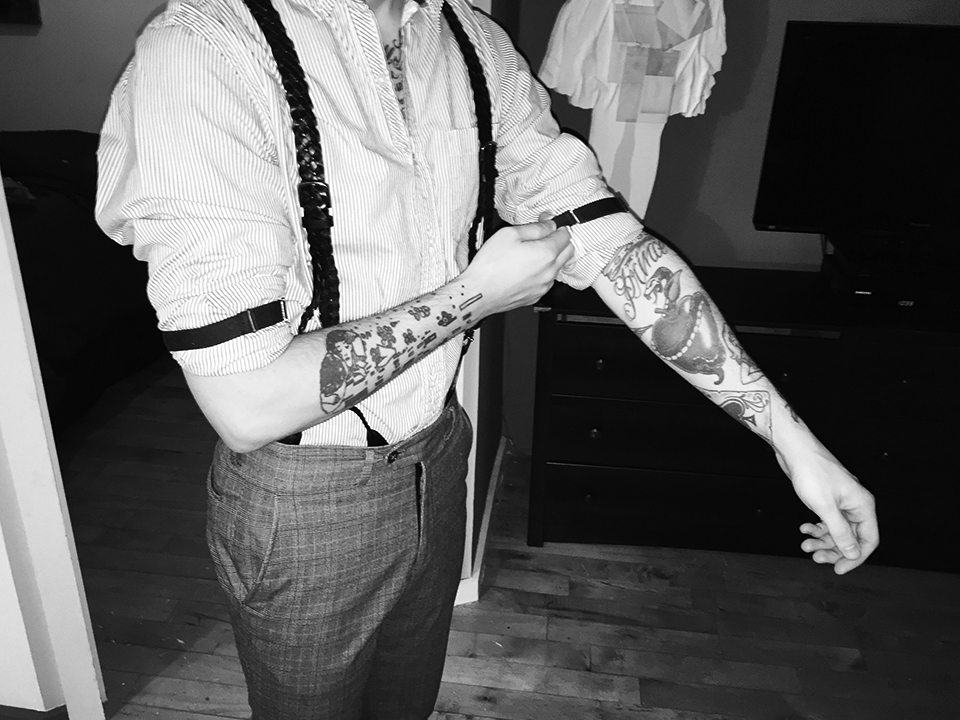 WHY NEW YORK CITY?
I heard that they make the best plastic slipcovers for couches in the good ol' Hasidic community in Brooklyn, so I naturally migrated here after going to college in Providence RI. I figured while I was here, I would get my masters degree at SVA in Manhattan. I feel NY has the most inspiring community of artists, curators, and galleries and one needs to be surrounded by and marinate within that system if he/she wishes to be a part of it.
THE CITY NEVER SLEEPS...WHAT TIME DID YOU GET TO BED LAST NIGHT?
Yesterday, I spent the day installing some older pieces of art up on the walls of my apartment/studio, getting ready for an upcoming studio visit. Then I worked on a painting for a good chunk on the day, followed by my two best friends coming over. I tattooed them in my apartment while they watched sports and the science channel while munching on some yummy/crappy Chinese food. We started winding down at 2am or so.
PLAY HOST FOR US... WHERE WOULD YOU TAKE US FOR
COFFEE - I love the Cobra Club in Bushwick Brooklyn which happens to be conveniently located two blocks from my place. They have great tasting coffee, and dangerously good "DOUGH" donuts, and they also have yoga in the basement (which i have never participated in), and they also become a neighborhoody bar in the evening.
DINNER - My kryptonite is a good cheeseburger, which would have to make my favorite dinner spot would have to be Boulton and Watt, which is on Houston and Ave A in the East Village. Everyone needs to try the burger with bacon, mac and cheese, and the brussel sprouts. The guacamole is also glorious and you can't leave without tasting the chocolate chip cookie served in a hot iron skillet paired with a pitcher of cold milk. The cocktails here are also phenomenal. Not to mention a great wait staff and the nicest owner and manager duo ever. I would also recommend Ducks Eatery in the East village if you are a little more adventurous. You need to try the pig ears app, and the goat neck for an entree. The duck salad is also superb. I was hesitant to try these items, but after being convinced, i got the enjoy the perfectly spiced and prepared food that tastes like happy. Excellent cocktails as well.
COCKTAILS - see above, but also check out The Rookery if you are in Bushwick
PARTYING - I like semi low key, divey, yet dandy spots which includes 2A, The Skinny, and of couse Lucky Jacks if miss Mannino is DJing
WHO ARE YOU LISTENING TO RIGHT NOW?
Old school Bill Withers, Alt J, Sia, James Brown, 90's pop
ANY CREATIVES YOU WANT TO COLLABORATE WITH?
I happen to have what I believe to be the most talented group of friends in the city. I would not hesitate to sign on to collaborate with any of them. My list of desired collabs….a menswear line with Christina Maninno ;), a film with Jonah Bleicher, a film or performance piece with the actor/comedian Matt Hawkins, a furniture or product design with Evan Clabots, an art installation with Ron Beach Jr. from RND Studios, and some sort of video or performance with actor Joseph Cross.
DO YOU HAVE A MUSE?
HHMMMM my muse would have to be my simple encounters with everyday life. I don't try to duplicate anyone or anything, constantly trying to be zoo tapped into myself and my interactions. So now is my muse. If i have to state one thing that has wowed me and given me inspiration it would have to be the "Glitter and Doom" show of German portraits from the 1920's at the MET a couple years ago. I have never been zoo affected from an art show before that. I could only stay 10 minutes and had to leave. I was zoo overwhelmed with emotion and visuals. I had to return a couple days later and could only skim through the show before sensory overload overcame me. I left with the catalogue which I try to revisit frequently.
DREAM DINNER PARTY -- WHICH 7 GUESTS WOULD YOU INVITE?
Warhol, Michael Jordan, Davinci, Michael Jackson, Pee Wee Herman, Al Capone, Daniel Day Lewis, and Natalie Portman. I know she is the 8th, but she doesn't need a seat, she can sit on my lap.
WHAT'S YOUR SIGNATURE LOOK?
My look is a mix between James Dean and the Depression Era. I basically have two uniforms. While I paint I wear a white Tshirt and paint covered jeans. When I decide to leave the studio, I usually wear nice jeans/or trousers, a tshirt or short sleeve collared shirt with either a button down vest, suspenders or sportcoat. Mostly accompanied by a classy fedora hat, which i have worn for 15 years, well before it became hipster so please try to forgive me. I also enjoy a nice newsy cap. I get my hats from Pork Pie Hatters in Williamsburg or East village. They make the best hats and shape and style them to fit each individual.
MOTTO YOU LIVE BY?
"Never do a half assed job" -- A quote from my father throughout my childhood. That quote has made me become a perfectionist, sometimes at an unhealthy level, but it has made me become the best artist , person, and lover that i can be.
WHAT ARE YOU WORKING ON NOW AND WHERE CAN WE SEE IT?
For thre last 3 years i have worked on my current series that no one has actually seen yet. Thankfully, for the sake of my sanity, I am nearing the end. It is a series of drawings, paintings, and sculptures. I have extended the photorealistic graphite drawings in plastic bag series, partnering paintings as well. One of which is comprised of 600 or so tiny paintings that are pieced together in a new viewing manner than my previous work. Once i get a little closer to completing the bosy of work, I will shop it around to a couple galleries that have shown interest, so we will have to wait and see what gallery will be the best collaboration with the work.
WOULD YOU RATHER
CINDY CRAWFORD or KATE MOSS
MORNING OR NIGHT
UPTOWN OR DOWNTOWN
KATE, NIGHT, DOWNTOWN
WEBSITE: www.adamkrueger.net (extremely outdated) new site in the upcoming months
INSTAGRAM: Finally took the bait @adamgkrueger
TWITTER: No thanks