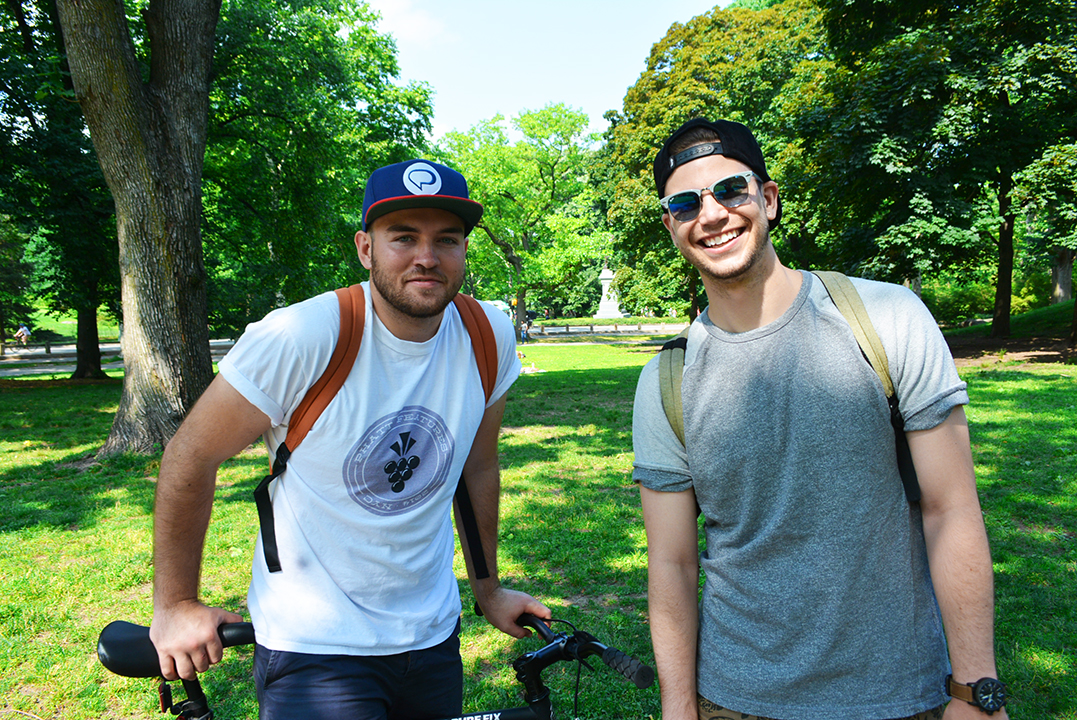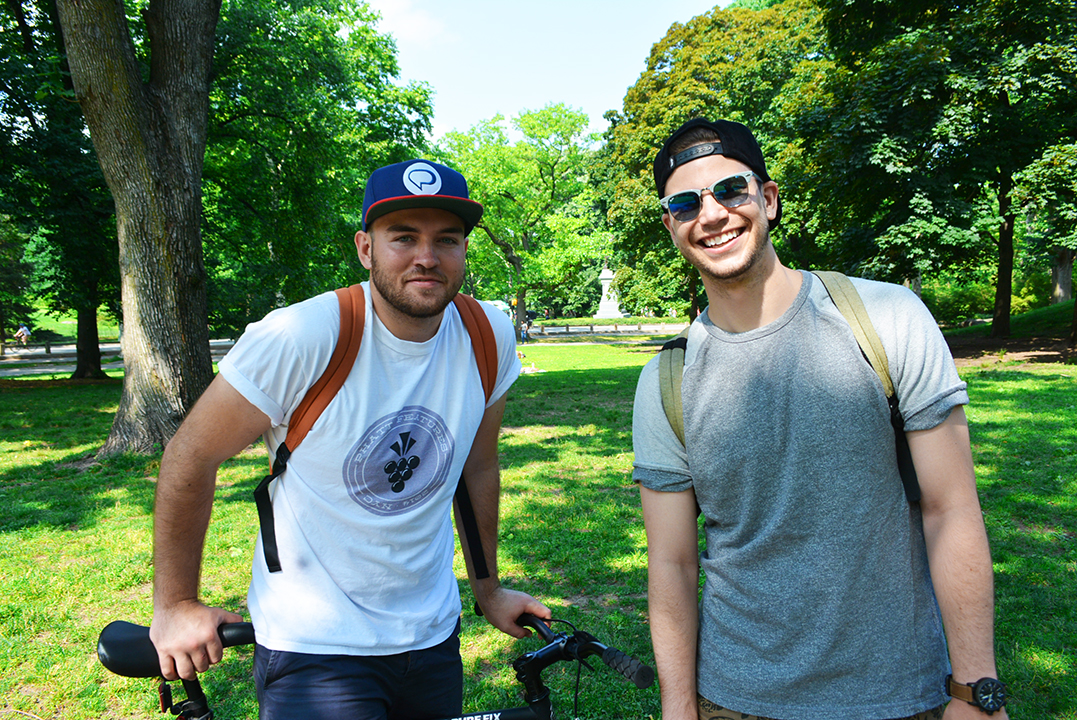 Photos by James Nova
I first got connected with Dickie & Phil on Craigslist (who knew!) when I was seeking some killer videographers to help create my Cult Factory promo film (watch it here). They are so young and talented and their motivation is definitely taking them to the top of the film industry! Get to know the boys behind Phatt Features more in their CULT Chat below:
WHY NEW YORK CITY?
My parents lived in Brooklyn for about 6 years, so I'd come basically every holiday, and I got pretty accustomed to the New York lifestyle and fell in love with it. And when I got issued a green card a few years ago, as I was finishing college it seemed like a no-brainer -- Dickie
We started this production company while we were studying in Brighton, England. It was doing well over there so we kind of just decided to jump in the deep end and try it in New York. I'm a US citizen and Dickie has a green card so it just all made sense. Plus NYC's where it's at, yo! -- Phil
THE CITY NEVER SLEEPS...WHAT TIME DID YOU GET TO BED LAST NIGHT?
About 2am. We shot an event out in Long Island and didn't get back to our apartment til after 1 -- Dickie
I ended up falling asleep around 3:30am. We had a shoot in deep Long Island and we got back home around1:30am. Now I've realized we need to invest in an air conditioner as I was tossing and turning in what felt like humid, rainforest air for a while. -- Phil
PLAY HOST FOR US... WHERE WOULD YOU TAKE US FOR
COFFEE - Anywhere. I've become a bit of a coffee junkie in this city -- Dickie
Cafe Jax on 84th and 2nd - Phil
DINNER - The River Cafe is amazing if you're in the mood for a fancy meal, and Carmine's is awesome if you're with a bunch of people and want a massive feast -- Dickie
Buddakan when I can afford it! Those Oxtail dumplings! -- Phil
COCKTAILS - Penrose or Infirmary are both good upper east side spots where we sometimes get cocktails. -- Dickie
The Penrose on 83rd and 2nd - Phil
PARTYING - I prefer house parties or bars to going out partying -- Dickie
I don't like clubbing really, but Rochelle's always is a good night! -- Phil
WHO ARE YOU LISTENING TO RIGHT NOW?
A$AP's new album is pretty awesome. Especially that song "Everyday". So good. Other than that, my brother got me into Big L a few years ago and I still listen to him fairly frequently -- Dickie
A$AP ROCKY's AT.LONG.LAST.A$AP and Action Bronson's MR. WONDERFUL… Oh and Chet Faker! -- Phil
FAVORITE PROJECT SO FAR?
Either the recent music video we made for Leek called "Wussup" or the drumming video we did for Johnnie Shinner. That was fun. But we're writing some personal projects at the moment that we're gonna start shooting soon. Can't wait for that -- Dickie
We wrote, shot, directed, and edited a music video for an up and coming rapper from Harlem called Leek titled 'Wussup' -- Phil
ANY CREATIVES YOU WANT TO COLLABORATE WITH?
Either Darren Aronofsky, Scorsese, or De Niro. They're 3 of my film idols so just meeting them would be awesome, but working with one of them would be unreal -- Dickie
Ben Sinclair! He's the creator of the web series 'High Maintenance.' Check it out! Its an exclusive on Vimeo and I think the next season actually got picked up by HBO - Phil
DREAM DINNER PARTY -- WHICH 7 GUESTS WOULD YOU INVITE?
Hmm...ok I'd bring Francois Truffaut, Martin Scorsese, and Alfred Hitchcock to chat about film; Eddie Huang cos he's jokes; Christopher Hitchens cos he's a genius; Philip Seymour Hoffman cos he's my favourite actor; and Action Bronson...just cos -- Dickie
Stephen Hawking, Kanye West, Louis CK, Natalie Portman, Jim Carrey, The Alien that crashed at Rosslyn, and DICKIE! -- Phil
WHERE DO YOU SHOP / WHAT'S YOUR SIGNATURE LOOK?
I definitely wouldn't say I have a signature look. I just wear whatever feels comfortable. As for where I shop...currently nowhere. I'm pretty skint haha -- Dickie
Hmm well since most of my money is going towards equipment and producing videos you can find me at Buffalo Exchange scavenging through the piles haha! I don't think I really have a signature look. I wear a bunch of random stuff that I think looks good together. Sometimes it works and sometimes it doesn't -- Phil
DO YOU HAVE A MUSE?
Nope. Don't have a muse -- Dickie
Probably my Grandmother. She is 86 years old, plays tennis 3 times a week, and is the most positive person I've met so far -- Phil
NYC FOREVER?
I don't know about "forever", but I'll definitely be here until I feel like we've really accomplished something. And then I'd maybe go either LA or London. Somewhere we can carry on from the (hopefully) successful start we've made in NYC -- Dickie
I moved around quite a bit growing up so I am looking forward to stay in one place for a while. I think NYC is the place for me to do that. But if I had to go it would be back to Prague, Czech Republic where my family and childhood friends are -- Phil
MOTTO YOU LIVE BY?
I like this quote by Marco Polo - "Man cannot discover new oceans unless he has the courage to lose sight of the shore". I also like Big L's lyric "I got the wild style, always been a foul child, My guns go poom-poom, and yo' guns go pow-pow"...that's how I like my life haha -- Dickie
As David Fincher would say, "People are perverts" -- Phil
WHAT ARE YOU WORKING ON NOW AND WHERE CAN WE SEE IT?
Apart from our own personal projects I mentioned, we're working on treatments for three different hip hop artists at the moment, so in the next month and a half we should be releasing a lot of cool shit. We've also recently shot a lot of event videos so will be releasing them soon as well -- Dickie
Right now we are in the process of editing a documentary that we produced about the gentrification and urban development in the Washington DC area. Look out for it within the next month -- Phil
WOULD YOU RATHER
CINDY CRAWFORD or KATE MOSS
Cindy Crawford, hands down -- Dickie
Cindy Crawford -- Phil
MORNING OR NIGHT
Morning!
UPTOWN OR DOWNTOWN
Uptown. Represent! -- Phil
INSTAGRAM: @phatt_features @philfrankay
TWITTER: @phattfeatures
WEBSITE: www.phattfeatures.com