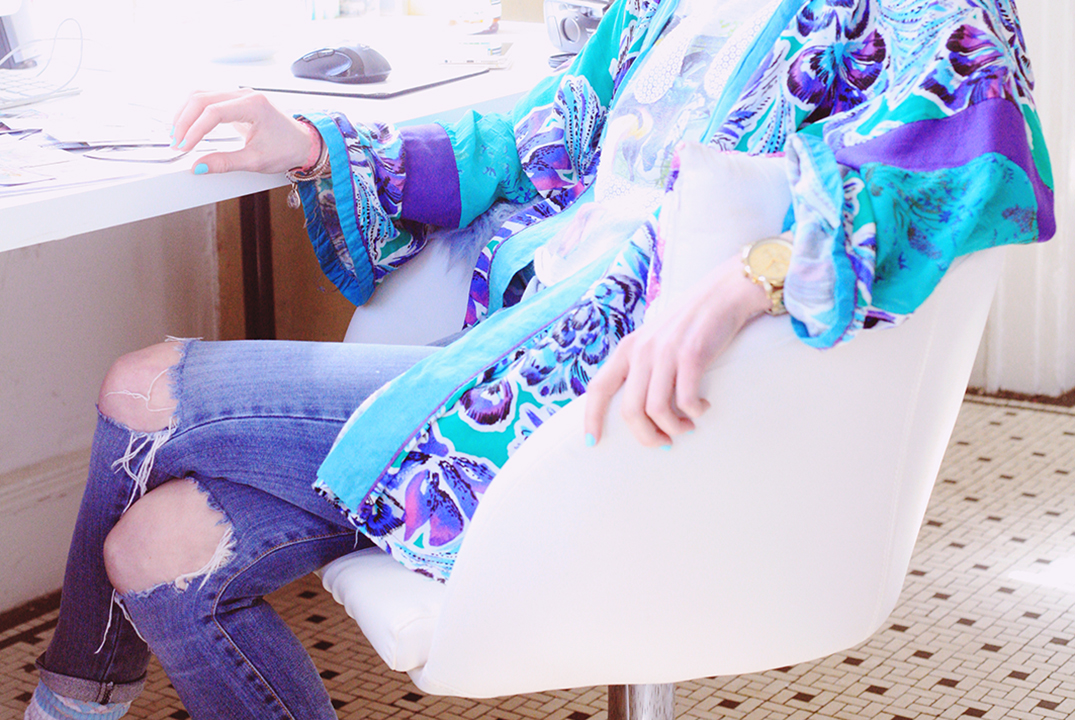 Photos by Kelsea Kosko in Williamsburg, Brooklyn; Check out more of Liberty in our style post here. 
Instagram led me to Liberty Leben, an art student and founder of Dirty Grl soaps, and I had to meet this quirky creative! With her colorful style and pop-satirical creations, this young babe is about to make major waves in the NYC art scene. 
WHY NEW YORK CITY?  
 To go to school at Parsons and (find new) opportunities.
THE CITY NEVER SLEEPS...WHAT TIME DID YOU GET TO BED LAST NIGHT? 
 Around 3:30...just doing homework! 
PLAY HOST FOR US... WHERE WOULD YOU TAKE US FOR
COFFEE -  Ost, a small coffee shop near my apartment in the East Village
DINNER - Milon, the tiny indian place on 1st avenue covered in Christmas lights. 
COCKTAILS - Elsa, but I've been spending most nights making soap and working on projects so I've been lacking on my cocktail game. 
PARTYING - Rooftops 
WHAT ARE YOU LISTENING TO RIGHT NOW? 
NPR
DREAM DINNER PARTY -- WHICH 7 GUESTS WOULD YOU INVITE? 
Oprah, Picasso, Debbie Harry, David Bowie, Miss Piggy, Hito Steyerl, & Andy Warhol
ANY CREATIVES YOU WANT TO COLLABORATE WITH? 
Artist Sebastian Masuda
WHAT'S YOUR SIGNATURE LOOK? 
I mostly shop at thrift shops, but my signature look is my chameleon hair. 
WOULD YOU CALL YOURSELF A REGULAR ANYWHERE? 
Muji, Michaels, and Whole foods
FAVORITE PROJECT SO FAR? 
My Dirty Grl trading cards (pictured above)
DO YOU HAVE A MUSE? 
Carrier Muse: Kyary Pamyu Pamyu, because she gets to be creative and play dress up everyday.
NYC FOR LIFE? 
I don't think the places life will take me are on a map. I LOVE New York, but I don't want to be too attached to any place. 
MOTTO YOU LIVE BY? 
(Cliche but true): Treat others how you would want to be treated. 
WHAT ARE YOU WORKING ON NOW AND WHERE CAN WE SEE IT? 
My Dirty Grl (Thesis) Show - 6 E 16th St. 6th Floor Opening May 18th -May 24th
WOULD YOU RATHER
CINDY CRAWFORD or KATE MOSS
MORNING OR NIGHT
UPTOWN OR DOWNTOWN 
NO PREFERENCE; MORNING; DOWNTOWN 
Website:  dirtygrl.com, libertyleben.com
Instagram: @libertypuffs
Twitter: @libertypuffs