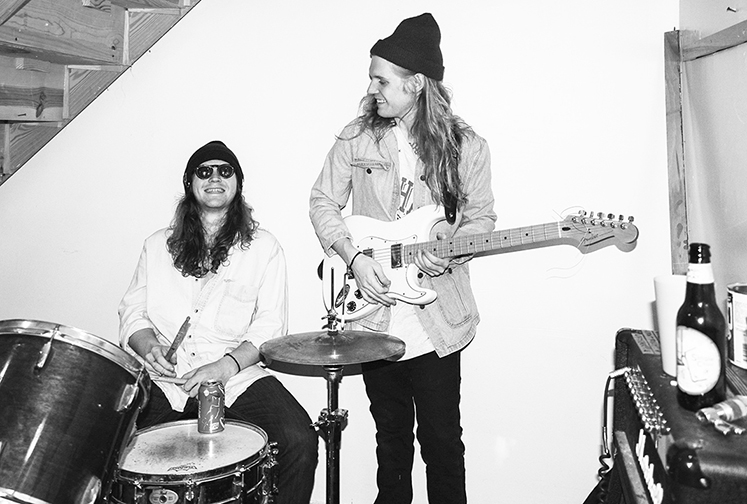 Photos by James Nova at Bad Looks HQ in Bushwick, Brooklyn; Check out more of Taylor & Zack's style in our style post here.
WHY NEW YORK CITY?
I wanted my spirit crushed on a daily basis and all my friends and girlfriend were moving in together (TAYLOR)
THE CITY NEVER SLEEPS...WHAT TIME DID YOU GET TO BED LAST NIGHT?
7 AM, writing in my diary (ZACK)
5:15am -- I was hanging out with my girlfriend and some candles dancing to Edith Piaf (TAYLOR)
PLAY HOST FOR US... WHERE WOULD YOU TAKE US FOR
COFFEE - If you're in Bushwick, go to Cafe La Mejor because they put butter in their coffee. If you're in the city, go to Stumptown I guess (TAYLOR)
El Rey in the LES (ZACK)
DINNER - If you're broke, go to Vanessa's - it's really hard to meet the $10 credit card minimum without having another person to share with (tap beers are 2 bucks). If you want something nicer but don't want to break the bank, Il Passatore has the best pasta in Brooklyn. Get the butternut squash ravioli (TAYLOR)
Mission Chinese or Mission Cantina (ZACK)
COCKTAILS - The Commodore at The Commodore or Pink Baby at Baby's All Right
PARTYING - If you're really tryna party you should go to LA (ZACK) -
Baby's All Right (TAYLOR)
WHO ARE YOU LISTENING TO RIGHT NOW?
Chief Keef and some Haitian music (TAYLOR)
My own shit (ZACK)
DREAM DINNER PARTY -- WHICH 7 GUESTS WOULD YOU INVITE?
I hate sitting at a table with more people than can fit in a car because I hate being stuck talking to the same person all night when it's too loud. i really hate those long tables. So my ideal group would only be 5 people including me. I need everyone to get along so I wouldn't invite Gucci and Jeezy to the same table. That being said, Gucci, Keith Richards, George W Bush, and Susannah… Sting, Keef, my friend Taylor's dad… i don't know (TAYLOR)
Gucci, Keef, Keef's kids, Pete Doherty, Sylvia Plath, Anne Sexton, and Jean Genet (ZACK)
WHAT'S YOUR SIGNATURE LOOK?
I shop online at Very Rare Vintage; Signature look this winter was the all black Tims, Champion sweats, Bad Looks crew neck, Maroon VTech beanie, J. Crew scarf my mom bought me, and a subtle camp Scotch & Soda puffy coat (ZACK)
I've spent 4 hours in the thrift store down the block this week. I'm too helter skelter to have a signature look. Maybe #girlortaylorlogue (TAYLOR)
ANY CREATIVES YOU WANT TO COLLABORATE WITH?
I wanna make clothes with Lele Saveri (TAYLOR)
Alex Ball (ZACK)
FAVORITE PROJECT YOU'VE WORKED ON?
Releasing our poetry book at the LA Art Book fair was awesome. bad looks radio is a constant that i love working on. The first zine Zack and I ever did was all photos of our friends called "YALL" and we gave it to everyone for christmas and sewed all of the zines in the car moving to NY.. I can't really pick one. every time i have been in or made a music video i've had a blast (TAYLOR)
So far Bad Looks Radio on Radio Muddguts 41, about to be renamed 8 Ball Radio, has been the most fun project we've worked on in NY, but we're about to have a KILO$ reunion show, the band we were all in a few years back, that's def been the most fun project ever. Shit used to get lit -- know April 9th gnu be turnt (ZACK)
NYC FOR LIFE?
Some days but I wouldn't bet on it. If I knew where I wanted to go, I'd already be gone (TAYLOR)
Absolutely not. I miss Charlottesville and Richmond a lot and just VA in general, but I'd really like to go to either Ireland or France next, tryna see Europe while I'm still young (ZACK)
DO YOU HAVE A MUSE?
Keef or Gucci but for different reasons if we're talking about modern day people. I don't know that much about him, but Brion Gysin seems really interesting and important behind the scenes. Jean Genet is cool (TAYLOR)
Cat Stevens (ZACK)
MOTTO YOU LIVE BY?
"It's better to ask forgiveness than permission" (ZACK)
"Where were you while we were getting high?" (TAYLOR)
WHAT ARE YOU WORKING ON NOW AND WHERE CAN WE SEE IT?
MUSIC. Our band from Virginia is playing a reunion show on April 9th at Bushwick Public house. Come. Bad Looks Radio is coming up on its 25th radio show, so it's our silver anniversary. Bad Looks is sending an exclusive zine and tape to Japan with 8ball Zines. Sad Molly is me and my girlfriend's band, Bad Looks TV, working on a partnership with a record label, Winston's tour, Stose, and hoping to book an art show this summer. The #girlortaylorlogue zine and party is gonna be a hit. We've got alot going on. Getting a website should really be at the top of the list (TAYLOR)
COOLEST PLACE IN THE CITY?
Either our basement or the basement at Retro Super Future in Soho, 8 Ball HQ (ZACK)
WOULD YOU RATHER
CINDY CRAWFORD or KATE MOSS
MORNING OR NIGHT
UPTOWN OR DOWNTOWN
KATE MOSS; WHEN THE NIGHT GOES ON STRAIGHT THROUGH TO MORNING; DOWNTOWN (ZACK)
KATE MOSS BC OF PETE DOHERTY; THE SUNLIGHT BORES THE DAYLIGHTS OUTTA ME; DOWNTOWN NY, UPTOWN NEW ORLEANS (TAYLOR)
Website: badlooks.bigcartel.com / 8ballzines.com/radio / badlooksent@gmail.com
Instagram: @badlooksent @zackgrasso @taylor_logue #girlortaylorlogue
Twitter: @taylorlogue (But i help alot with @susannahpiersol 's account) (TAYLOR)